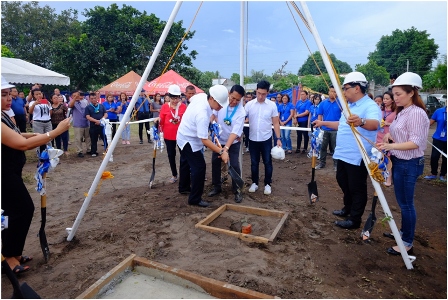 CEO Rodrigo E. Rivera, Sr. and CFO Roy C. Rivera led the groundbreaking ceremony with General Santos City Honorable Mayor Ronnel C. Rivera.
Richmond Land Innovations Inc. (RLII) held the groundbreaking of the first community Mall in Gensan last June 14, 2018. The event was in keeping to RLI's goal to develop pioneering projects that will change the economic outlook of the community where it operates.
RLII is under the umbrella of RD Realty Development Corporation (RDRDC) management team, both are subsidiaries of RD Corporation. The construction is set to be finished within the next 12 months.
The mall is located on a 4-hectare property of RLII along Mabuhay Road corner NLSA, Barangay Mabuhay, General Santos City with 10,000 sq.m. gross floor area and at least 70% leasable space with ample parking spaces.
According to the mall's masterplanner Architect Arceo Layno, the mall will have open space for big events with anchor tenant, food court, boutique shops and kiosk and will feature urban park to make up a green environment for its customers.
The project is part of the series of developments of commercial areas that RLII is building, an addition to the 10-door Sinawal Town Center following the residential development which includes the La Cassandra and Norfolk Pine subdivisions and the industrial project, The Mindanao Economic Development Zone (RD City).
The groundbreaking ceremony was attended by the founder of RD Group Mr. Rodrigo E. Rivera,Sr. , members of the Board of Directors like Ms. Debbie Ann R. Riveral, Mayor Ronnel C. Rivera and wife Ms. Jane G. Rivera. Friends from the banks, prospective clients , RDRDC & RLII employees and officers also graced the event.
Richmond Land Innnovations Inc. was formed in 2004 to spearhead RD Realty's entry into residential development. RLII is the developer of the La Cassandra subdivision which won The Best Development and Architectural Design on a regional category for economic housing in 2006. On the same year up to 2007, RLII has acquired a total of 104-hectare in the boundary of General Santos City and Polomolok, South Cotabato for the RD City development which was officially launched in 2016. In 2013, RLII launched the Norfolk Pine Subdivision.
RLII aims to invite more investors to come to the City of General Santos through the economic zone RD City. It will continue to develop significant areas that will economically prosper the nearby community. RLII is expected to launch another housing project within the year. (Jerlyn L. Bernal)