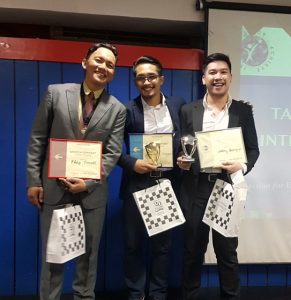 From left: 3rd Placer Philip Pimentel; international Speech Champion Ivan Jude S. Busgano; and 2nd Placer Anthony Galenzoga
Beginner's luck or RD Toastmasters are just really good?
March 24, 2018 – RD Toastmasters Club (RDTMC) members Ivan Jude S. Busgano and Sheryl M. Pedroso, who are also public speaking contest first-timers, bagged gold and silver trophies in the Toastmasters International – Division E Speech Contests held at Holy Child College of Davao. Division E is comprised of 14 Toastmasters clubs in Davao City, General Santos City, and Zamboanga City.
Ivan Jude S. Busgano, Management Information System Department Head of Penbank, Inc.  and RDTMC Ambassador, won First Place in the International Speech Contest, the prepared speech category, where he delivered his speech, Bold but Not Foolish. It was about building a bridge to one's dreams. It was also his Speech Project 10 that completed his Competent Communication track. As Division E's Champion, he would compete in the national level in April.
On the other hand, RDTMC Vice President-Education Sheryl M. Pedroso, who is also the Training Officer of RD Corporation, competed and placed second in the Table Topics (Impromptu Speech) Contest. Contestants in this category had to answer the topic, "It is not who you are underneath, it is what you do that defines you."  (Sheryl M. Pedroso)