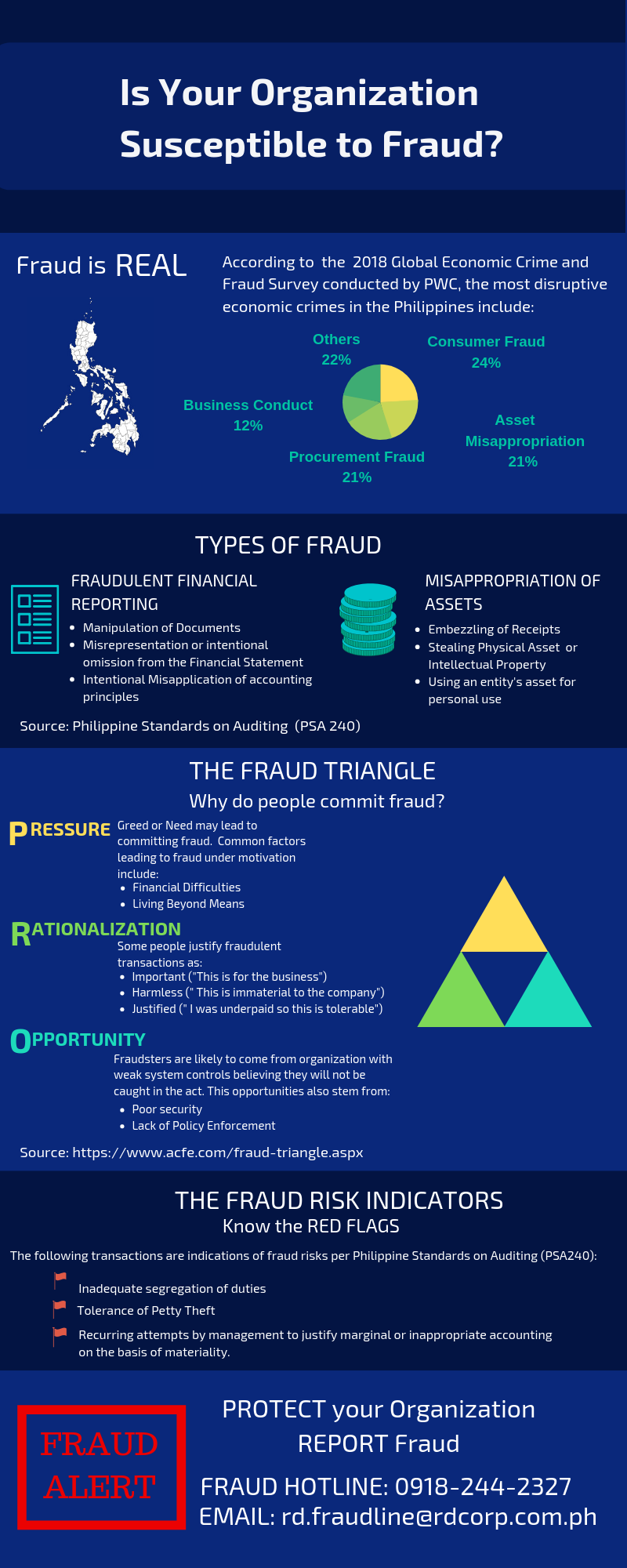 Fraud is real. No market participant is exempted from its damaging effects – not even our organization. Fraud is the intentional false representation or concealment of a material fact for the purpose of inducing another to act upon it to his or her injury (American Institute of Certified Public Accountants).
Fraudsters are all over the globe. In fact, organizations lose five percent (5%) of their annual revenue due to fraud each year. This is one of the key findings of Certified Fraud Examiners (ACFE) in its 2018 Global Fraud Report placing fraud as an ever-present and growing risk for every businesses and organizations in the world.
In a separate study conducted in the Philippines, it was found out that fifty four percent (54%) of the Philippine respondents experienced economic crime and fraud at work in the past two years. This was reported in the 2018 Global Economic Crime and Fraud Survey conducted by Pricewaterhouse Coopers (PwC). Further analysis of the study revealed that high incident occurrences pose a threat to operations, and may as well affect employees' morale, reputational/brand exposure, and relationships with business partners and regulatory bodies.
Nonetheless, what motivates the commission of fraud? In a theory developed by Donald Cressey, three fraud risk- factors were identified, known as the fraud triangle, namely: Pressure, Rationalization, and Opportunity. While these may not necessarily indicate the existence of fraud, they have often been present in circumstances where frauds have occurred. These may result in the commission of Fraudulent Financial Reporting or Misappropriation of Assets, but do not necessitate the same.
Understanding the fraud triangle can aid the company to more effectively combat criminal behavior that negatively impact their operations. Resistance against fraud requires reinforcement of the systems and equipment of the manpower. Maintaining an ethical culture and observing appropriate corporate governance and accountability within the organization are weapons we could use to win this battle.
As an old adage says, knowledge is bliss and fraud is prevalent not just in the Philippines but all over the world. It is time to recognize the adversary, and beat it, before it gets the better of us.