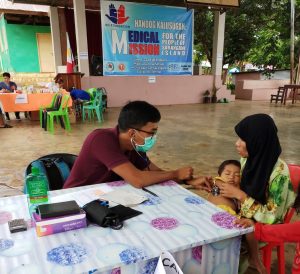 Balut Island, Davao Occidental – Committed to making lives better for the less fortunate people in an isolated island, RD Foundation, the Corporate Social Responsibility arm of RD group of companies, conducted a one day medical mission in the Municipality of Sarangani, Davao Occidental. The one-day mission on June 1, 2017 was dubbed "Handog Kalusugan" a medical mission for the people of Sarangani Municipality.
A total of 622 people, both adult and children, have benefited the free services. Among the services made available to the community were free medical consultations, circumcisions and optical service with free reading glasses. Hot meals were also served free to all considering that most of the beneficiaries travelled far and crossed the sea to avail of the services. Children were also treated with fun games, songs and snacks.
The town of Sarangani in Davao Occidental, which is popularly known as Balut Island is located in the southernmost part of the country. The residents in the islands are mixture of Blann, Sangil, Visayan and Indonesians. The team of volunteers from RD Foundation and other partners travelled more than seven hours via boat braving the strong currents and big waves. It was a harrowing journey due to bad weather forecast but all were passionate to get to the island for the mission where the beneficiaries eagerly waited.
Due to the distance and difficulty of travel to reach the islands, residents seldom receive medical services. Some of them have to cross the sea from another island or walk a distance just to reach the mission area. During the mission, two hundred sixty five (265) beneficiaries, both adult and children, availed of medical check-up with free medicines/ vitamins. Two hundred fifty (250) senior citizens benefited from free eye check-up and reading glasses.  Another one hundred seven (107) brave boys were circumcised. Additional medicines and vitamins for children were also turned over to the Rural Health Unit of the said municipality for distribution to the health centers of specific barangays. Accordingly, RD Foundation is the only organization who comes to the island to conduct the medical outreach.  (Rhea S. Muyco)